Our Latest News & Events
At South West Letter Lights we are always busy across the Devon, Cornwall and Plymouth as we set up our Letter Lights, offer great insights on local venues and let you know about any new products & services we offer.   Please follow and share our posts and help spread the word about our great company!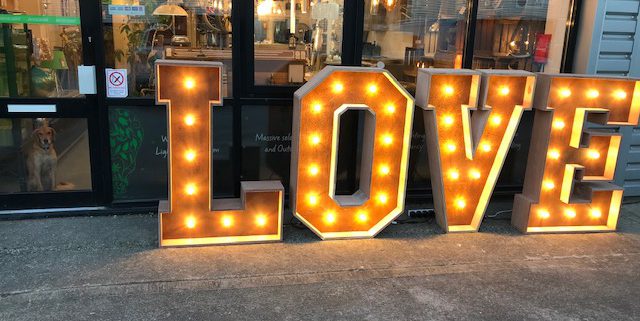 Introducing Rusty Letter Lights
by Clare
The story of Cinderella is a classic fairy tale that has survived in our traditions for several centuries. Many little girls would dream of a wealthy prince to sweep them off their feet and provide comfort, love and wealth. Weddings are also something many young girls dream of, from dressing up in costumes and adding "jewellery" when they are little to play forts in the garden that only a child's imagination can sustain.
We'll the day has come and your wedding is a realistic dream you heart has made..

"Be kind, have courage and always believe in a little magic."
―
For 2019 – there is a return of a classic and simplistic wedding theme, combined with a modern rough textured backgrounds and bright colours.
Yes, the traditional white wedding where everything was classic, clean and white is being replaced with colour! Be bold and choose bright faux oranges, Rusty Reds, Blazing Blues & Field Greens … use white only where it matters. Choose a simplistic white dress as this looks good when colour is carefully placed throughout the room. Your white dress will stand out, especially with our new Rusty coloured Letter Lights.
"A dream is a wish your heart makes…"
―
At South West Letter Lights we have created a stunning new collection of Letter Lights in a Rusty coloured theme, which is a transformation from the traditional all white wedding and adds a beautiful backdrop to your photos.
These lights look fantastic when paired with our mini white letter lights, and look even better as a backdrop in your photos. Choose lighting like little fairy lights, hanging pendants and classic gowns – watch them illuminate the room as the lights dim for the evening, adding a gentle warmth that fills the room. Now available we have a great selection of Rusty Letter Lights: Rusty Love, Rusty 8 Ft Heart or our Rusty Hastag lights and contact us for your preferred combination of Initials or any combination of letters.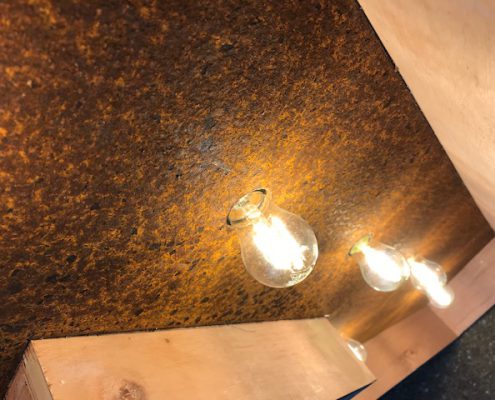 These vintage style letter lights are just the right colour with a rusty style and stand both 4 & 8 feet tall. The plan is to build the full alphabet so any combination of letters or words can be supplied. They look absolutely stunning with our mini white letter lights as well – so make sure you book the mini "Mr & Mrs" and then order your last name for the full effect.
… if you keep on believing, the dream that you wish can come true."
―
Keep believing in your dream of the perfect wedding, and you will watch things transform before your eyes. Of course South West Letter Lights wants to be apart of that Dream, so do get in touch and let us help make it reality.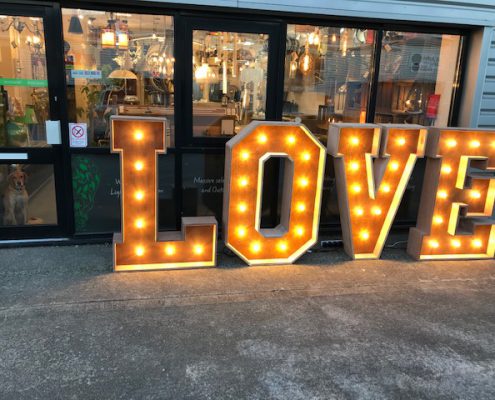 Do you like our new Rusty Letter Lights?
Share this post across Social Media! #southwestletterlights
https://southwestletterlights.co.uk/wp-content/uploads/2018/10/IMG_0650.jpg
480
640
Giles Boardman
https://southwestletterlights.co.uk/wp-content/uploads/2018/10/logo-e1549320148602.png
Giles Boardman
2019-03-14 22:01:06
2019-03-14 22:49:54
A dream is a wish your heart makes..

by Clare
It's a beautiful spring day, as Britain is treated to the luxury of summer weather in February. There are daffodils and summer flowers making their appearance, the trees are starting to blossom and colour seems to come back to the hills.
As I drive into town in the early morning, traffic has come to a stop. And before I get too annoyed with the drivers in front, I catch a glimpse of a mother lamb and her little babies as they take a brave step across the road. Of course, we don't mind waiting for such beautiful creatures and wait patiently for nature to make its crossing. As I continue my journey, I can see the green of the countryside and remind myself how beautiful Devon is this time of year.
There's this thing about spring, that seems to bring a new optimism and hope that makes weddings this time for year ever more special…
You see there's this thing about the spring that seems to bring a new optimism and hope that makes weddings this time of year ever more special. The celebration of true love is a rare glimpse of something fantastic, something new and a hope that so many long for and few manage to find. A spring wedding has a newness that envelopes everyone who attends – bringing nothing but joy, optimism and a promise that true love is alive and well!
A wedding is not only a formal ceremony and contract that binds you to one another, but it's a proclamation of love that is definitely worth celebrating! From the wedding ceremony where the fairy lights adorn the isles to the party that you'll never forget.
South West Letter Lights has been helping couples celebrate their love since 2014 and we are enjoying continued growth. We offer full set up, take down and delivery of our large Letter Lights that come complete with energy efficient bulbs and a few extras just in case. We also offer a variety of other Wedding Supplies which help to make the party complete. Our calendar for spring is rapidly filling up so do get in touch today to book our services.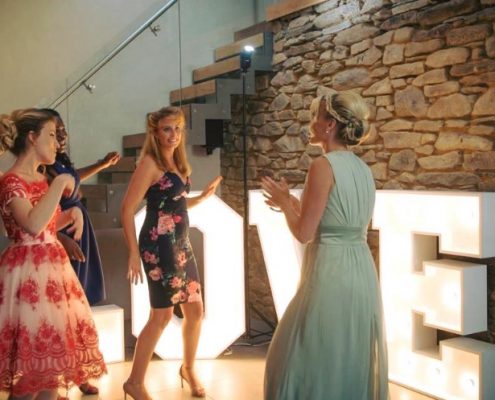 Call us on 07948 357 522 or drop us a line at info@southwestletterlights.co.uk. Our website also offer a full online booking system and secure payment processing. Just visit – https://southwestletterlights.co.uk
https://southwestletterlights.co.uk/wp-content/uploads/2019/03/Spring-Weddings.jpg
1415
1920
Giles Boardman
https://southwestletterlights.co.uk/wp-content/uploads/2018/10/logo-e1549320148602.png
Giles Boardman
2019-03-03 09:41:55
2019-03-03 10:00:14
There's this thing about weddings...

A handy guide to help you plan your wedding
By CLARE
So the big day is around the corner and there is so much to do. planning your wedding is all apart of the excitement leading up to your wedding day. But where do you start? Thankfully we have created the best wedding checklist to help you plan each and every detail. Of course south west letter lights wants to be involved as much as possible, so we have highlighted and linked any products or items we think would come in handy as you go.
From planning the décor, to entertainment & lights south west letter lights has you covered in Plymouth, Devon & Cornwall.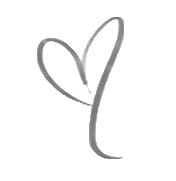 Step 1.
Remember to Breath…
Planning a Wedding can be stressful. You want you day to be perfect, your guests happy and you know it will be a memory you will cherish forever. But first of all, sit down make a cup of tea and breath. Remember you love each other and that's what matters the most. Now… lets plan.
Step 2.
Create a budget. Make sure you both agree on the maximum you want to spend and stick to it.
Have lots of talks and make sure you both agree what type of wedding you would like. Discuss the style, location, guests, afterparty…
Have him write down a guest list and you write down yours, then discuss and make sure your happy with who your inviting.
Research wedding venues. To make this easy, South West Letter Lights has an entire section on the website with our top venues.
Choose a Wedding Venue Date. Make sure it works for all the top invites.
Then go out with your friends and celebrate! Your engaged!
Step 3.
Go visit your favourite venues. Then book your chosen place as soon as possible. Its spring (everyone is getting married!)
Have a look at the South West Letter Lights wedding services. We specialise in handmade Letter Lights. They are a fantastic backdrop to our Star Lit Dance floors and really help set a fabulous mood at the party.
Research photographers, florists, bakery, salons.
Choose your entertainment – we have an entire section that's perfect for weddings. From Lit Dance Floors, Barrel Hire, Confetti Cannons, Champagne Chillers, Photobooth Hire and more…
Book a photographer and videographer
Start the ever important wedding dress search.
Choose a wedding party. Who will be the best man & bridesmaids.
Get your friends involved and ask them to help with the planning.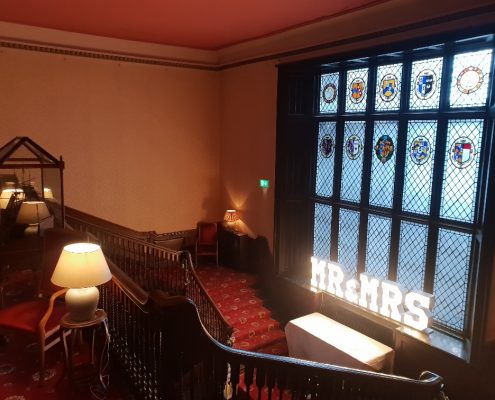 Step 4.
Research and reserve accommodations for guests
Contact South West Letter Lights (use our website or give us a call) and book our services.
Do you know where you want to go after the wedding? Research & book your honeymoon.
Are you having a church wedding? You may need to attend a marriage course before your big day.
Get your dress ordered as soon as you can. Book those tuxes or suit hires and the bridesmaid dresses. Many companies need at least 6 months to ensure they are ready on time.
Check your passports if your going abroad. Make sure the dates are valid (6 months before expiry is best).
Plan your stag/staggett party. Book your letterlights & entertainment. Have this 2-6 weeks before your wedding day.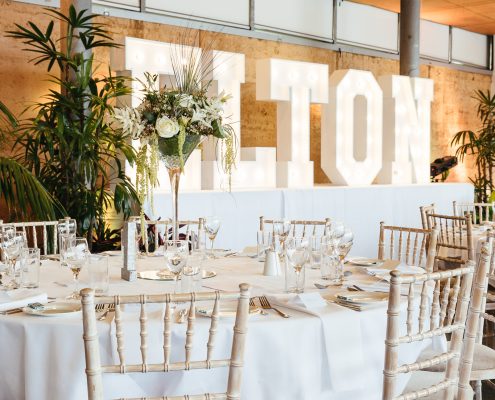 Step 6.
Go shopping with him and choose your wedding rings. (wink wink – remember the budget)
Choose the wedding invitation cards and get them sent out a minimum of 6 weeks before the wedding. Create a RSVP list and see if a friend can help with this.
Organise the flowers. Corsets for the groom and flowers for the bridesmaids. Also your bouquet – choose your favourite flowers and coordinate with the bridesmaids.
Organise the same for your flower girls & page boys.
Choose your wedding day shoes. Not just for your dress but make sure you have a great pair for all that dancing afterwards!
Book a wedding day car.
See if you can organise a menu tasting with your caterer. Bring your friends.
Go to the spa. Why not? This one is to help you relax, and take care of you – it will help you to be relaxed on the big day as well.
Follow up with your guest list. Has everyone responded to your RSVPs?
Step 7.
Check in with the photographer and make a request of certain portraits or locations around your venue that you "must have".
Check in with the South West Letter Lights Venue and give them the guest numbers. Confirm the dates.
Check in with South West Letter Lights and make sure everything is ready to go. Remember we provide full set up, take down and delivery of all products for any venue in Plymouth, Devon & Cornwall. So relax. This is all taken care of.
Create a table seating plan & order or print name place cards.
Create a timetable for the day.
Create a ceremony timetable for the guests. Many churches can provide this to you.
Give ceremony and reception site managers a schedule of vendor delivery and setup times, plus contact numbers.
Get manicure, massage, waxing & all your preening and prep
Rehearse your wedding day at least once.
Check with the entertainers, flowers, photographers, venue, cake supplier, church and immediate family that everything is set to go. Provide emergency phone numbers just in case they need to reach you for any on the day questions– a friend is great for this.
Get a good nights rest and relax.
Wedding Day
Congratulations on your wedding! May you have a long & very happy marriage. Thank-you for having South West Letter Lights apart of your most special memories.
https://southwestletterlights.co.uk/wp-content/uploads/2018/11/homepic.jpg
450
1000
Giles Boardman
https://southwestletterlights.co.uk/wp-content/uploads/2018/10/logo-e1549320148602.png
Giles Boardman
2019-02-18 10:47:02
2019-02-18 11:01:12
The Best Wedding Checklist